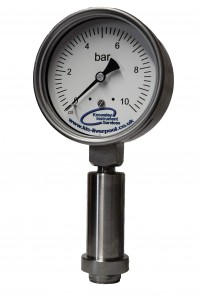 Diaphragm seals are required in applications where there is the possibility of contamination of the gauge or transmitter from contaminants such as suspended solids in the media or where corrosive liquids or gases are present. The system fill fluid used to transmit the pressure from the diaphragm to the instrument will be selected to best suit the application.
Our chemical seals can be manufactured from a range of materials and can be fitted to pressure gauges, pressure transmitters or pressure switches. The seals can be directly to the instrument or via a capillary for remote mounting.
Industry standard process connections and many non-standard process connections can be accommodated.
Our analogue chemical seal gauges are available in 63mm, 100mm and 160mm dial sizes. Our digital versions are available as 100mm dial size.
Options
All of our gauges can be fitted with accessories such as; syphons, cooling neck s, safety glass, internal snubbers, dampened movements ( analogue), glycerine or silicone  filled heads ( analogue), isolation valves,  max & min pointers (analogue) and electrical contacts ( analogue).
We can supply material and system fill certificates in addition to calibration certificate for the instrument.