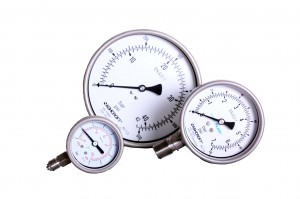 We stock analogue and digital gauges from manufacturers such as Ashcroft, Wika and Badotherm to suit a range of industrial applications.  We can also source gauges from other manufacturers to suit your application or site preference.
Our stock analogue gauges are manufactured from a minimum pf 304 stainless steel cases with 316 internals and process connection. We are also able to source gauges with alternative internals to suit your application.
Our stock analogue gauges are 63mm, 100mm or 160mm dial faces with bottom or bottom back entry. Cases with flanges for surface mounting can also be provided. Our stock digital gauges are 70mm bottom entry.
All gauges are available with either single or dual scales and dial faces can be custom marked/coloured to suit your application.
A wide selection of vacuum and/or pressure ranges are held in stock with either BSP or NPT process connections.
Options
All of our gauges can be fitted with accessories such as; syphons, cooling necks, safety glass, internal snubbers, dampened movements (analogue), glycerine or silicone  filled heads (analogue), isolation valves, chemical or hygienic seals, max & min pointers (analogue) and electrical contacts ( analogue).
We can also provide screwed or welded adaptors for the more unusual process connections.